The Wellness and Medical Center
in the heart of the Karst
Dear customer,
following the latest Prime Ministerial decree issued by the government, the gym, swimming pool and spa areas will be closed off until further ministerial decree.
Your subscriptions will be suspended for the same period.
The medical and beauty center will stay open.
The reception is available from Tuesday to Saturday from 10am until 7pm.
Our trainers, to keep you company during this period and to allow you train wherever you like, have designed a classes' schedule on ZOOM. Find it out here!
Sure of your affection, we hope to see you again very soon!
Avalon, The Wellness & Medical Center, is the only center in the Friuli Venezia Giulia region that provides multiple services focused on personal health, sport, relax and well-being of body and mind.
Located in the heart of the Karst, just a few minutes away from the center of Trieste, Avalon is surrounded by a large park where you can relax and get in touch with nature; indoors, guests have access to the gym, swimming pool, thermarium, beauty salon and medical center, by choosing from a wide range of options.
MEDICAL & PHYSIOTHERAPY CENTER
Open seven days a week, the gym is a glazed open space from which you have a wonderful view on the surrounding park, and will benefit from a soothing and peaceful atmosphere. Inside, there is an area for bodyweight workouts and another one for weights training; the remaining surface is covered by Technogym isotonic and cardio machines.
Complete personal training
Expanded and renewed aerobic machines
Avalon's swimming pool is 15m long, 1,40m deep and heated at 29°C. It is equipped with a hot tub, Karst waterfall, Kneipp therapy and water games. The glass wall facing the pool allows you to view the Karst landscape surrounding the center.
Private swimming lessons for adults and kids
Medical and Physiotherapy Center
The Medical & Physiotherapy Center deals with the complete recovery of the health, shape and well-being of its patients. We operate according to an integrated multidisciplinary approach concept in full compliance with the latest scientific evidence. The team includes the physiatrist dr. Andrea Piccozzi, medical director, the posturologist, the orthopaedist, the sports doctor, the aesthetic doctor, the dermatologist, the osteopath and kinesiologist, a team of physiotherapists specialized in different areas of expertise (orthopedic, sports, postural, hydrotherapy, osteopathic).
The best of rehabilitation care
Modern and complete facilities
State-of-the-art equipment
Treatment of chronic-degenerative problems
Sports rehabilitation and training
The Thermarium area represents the essence of well-being and offers many options to those who wish to relax and "switch off their minds", taking care of themselves.
Emotional showers with tropical essences
Silence area equipped with sunbeds and thepidarium
The beauty salon is an oasis of beauty and well-being for body and mind. Treatments and massages, performed by specialized professionals, allow our guests to lull themselves into an atmosphere of absolute relaxation and peacefulness. The scents of essential oils, soft music, the sweet and spicy aromas of hot herbal teas and the skilled hands of our professionals will make you enjoy a genuine regenerating sensory experience.
Highest quality products and latest generation technologies
Avalon's new restaurant offers a meat menu that creatively reinterprets the local cuisine; the new Executive Chef, Vincenzo Vitola, employs some excellent products from our territory (such as Radovich oil and Zidarich cheeses) with the aim of evoking the flavors and aromas of the Karst and uses strictly seasonal products.

As well as providing you with a relaxing thermal spa experience, you will leave the center feeling pampered and looking great…and wanting to come back soon!
Relax and wellness await you
Book classes, trainings and services online!
Download MyAppy-user, use the following QR code to connect the App to Avalon center and call us ( tel : +39 040 327431 ) to get your login credentials!
* app available for iPhone, iPad and Android devices.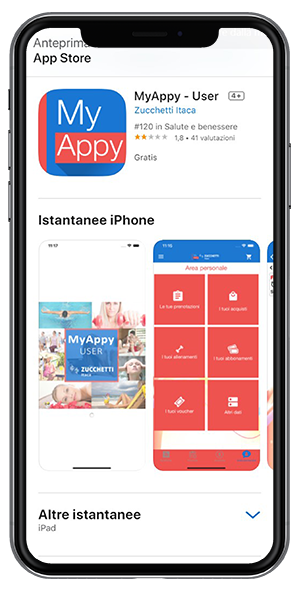 Hai qualche domanda? Contattaci!
Per qualsiasi domanda, richiesta o informazione… Non esitare a contattarci!
Saremo lieti di assisterti e risponderti al più presto!